A joyous version of the Hitchcock classic

Exactly the thing the West End has been waiting for

Call 0844 847 1778 to book directly from the theatre or Buy Tickets Online
From Official Tickets Agents
Booking from
Wednesday, 6 September 2006
Booking until
Saturday, 5 September 2015
Running time
1 hour 40 minutes
Performance Times
| Mon | Tue | Wed | Thu | Fri | Sat | Sun |
| --- | --- | --- | --- | --- | --- | --- |
| | | 15:00 | | | 16:00 | |
| 20:00 | 20:00 | 20:00 | 20:00 | 20:00 | 20:00 | |
The 39 Steps
The Times calls it "A dizzy theatrical game played with wit and versatility". The Guardian says it's "clever, very funny and brilliantly acted." The Observer says it's what the West End "has been waiting for". It's the 39 Steps and it's quite simply hilarious, one of the Criterion theatre's greatest ever hits... and it's all acted by just four supremely talented individuals covering 139 roles in a gut-bustingly amusing 100 minutes.
We bet Alfred Hitchcock would never have guessed that his classic spy thriller would eventually be adapted for the stage so brilliantly and hilariously. So much so that it became an Olivier Award Winner, one of the funniest and best-loved stage comedies of recent years.
What goes on? Well, it's absolutely, spiffingly, tremendously amusing. You'll love the fast-paced adventures of the handsome hero Richard Hannay with his classic British stiff upper lip, gung-ho attitude to deadly danger and devastatingly attractive moustache as he circumvents dastardly murders, evades double-crossing secret agents and fights off attractive women. It's a truly inventive and gripping comedy thriller – if you haven't seen it yet, it's high time you treated yourself to guaranteed giggles.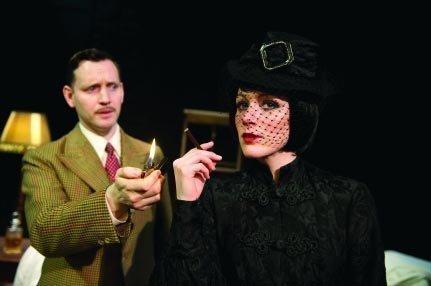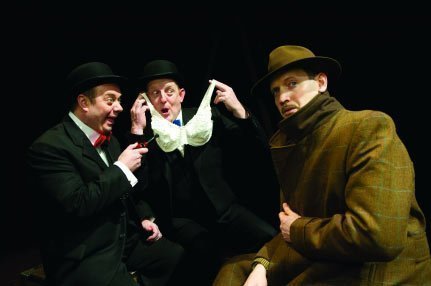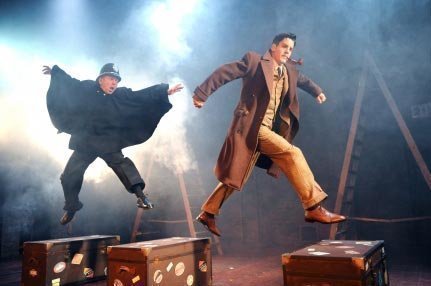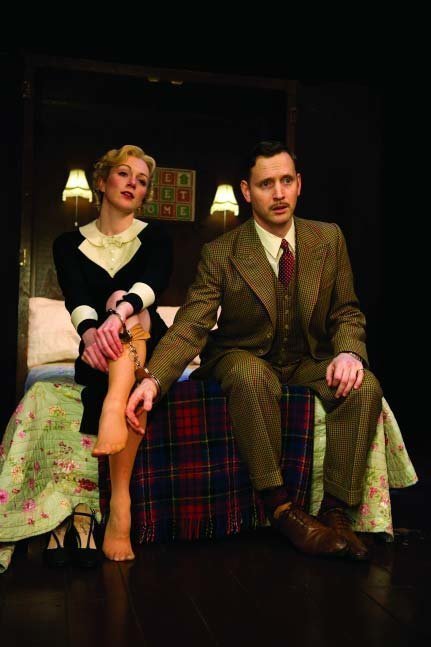 «
»
Audience Latest Reviews
Reviews Summary based on 640 reviews
General:
What to expect
Acting:
Music:
Costumes:
Story:
Lighting:
Recommendations
Anyone:
Families:
Teenagers:
Young Couples:
Theatregoers:
excellent show well worth a look!
Really enjoyed the inventiveness and laugh out loud humour of this comedic and dynamic retelling of the 39 steps. extremely strong cast made it a very very enjoyable show!
Rachel, 16 Mar 2014
Laugh out loud (LOL)
It's great fun, the improvisation is so entertaining - our 2nd time seeing the show and enjoyed every minute.
Judi, 23 Jan 2014
fab show
did'nt really want to go as we are not really into plays but this was excellent & so funny should make a dvd of it
sandra horobin, 14 Nov 2013
39 Steps
This was brilliant. So funny & clever. The 4 actors were amazing. The theatre was lovely. We sat in the middle stalls & had an excellent view. I would thoroughly recommend this show :-)
Rebecca, 31 Oct 2013
Pure Theatre
I really loved the show because of it's creative ability to' not only keep me gripped; but to do so many things with so little ... Creativity at it best ... And of course ... It was very funny. Thanks for the memory of a grand day out with my 3 friends who were visiting from Dublin.
Liam, 02 Sep 2013
Laughter
I enjoyed the show very much. I have seen the two 39 steps films that were made so new the plot but the way this show was performed made me and my companion laugh in the way each actor played their part. The whole show was very funny and a pleasure to watch.
Charles, 20 Jun 2013
More than 39 laughs
Highly visual, fast moving, wonderful use of props; the ability of three of the four players to slip in and out of different roles is quite remarkable. Suitable for non-English speakers, since it would lose only a little if purely visual.
Brian, 09 Nov 2012
39 steps to entertainment
Uniqueness was that only four actors presented the entire show with their change of characters , costumes and sets which kept the audience spellbound.
Arunesh & Swapna for Chandreyee, 19 Oct 2012
Quirky and entertaining show!
This was nothing like I was expecting, but it was thoroughly enjoyable.If you like slapstick comedy and a good yarn, you'll love this. The small cast worked their socks off, and the Criterion theatre is perfect for the intimate atmosphere it generates. Overall it was excellent value and a cracking night out.
Rob, 19 Aug 2012